From 26th November – 17th December, we're hosting a Selph first, a Mums and Bubs yoga series for new parents and their children.
Postnatal yoga with mothers and their children allows for a connection to be built with your body post pregnancy and birth, a stronger connection with your baby in a mindful way and a great opportunity to meet other mums in the area. New mums will learn techniques to support this new stage of their lives and your baby will receive gentle stimulation to support their early development. 
We sat down with Pre and Postnatal Yoga Specialist, Sarah Moore, who will be hosting the yoga series, Mums and Bubs, to chat about the benefits of yoga for mothers and their children, tools for new mums and her passion for yoga.
Hi Sarah, first things first, what are the benefits of postnatal yoga with your baby? 
There are many benefits to practicing yoga, but practicing postnatal yoga with your baby helps to manage the big changes in your body and your life.
Yoga with your baby is an amazing tool to help the body heal and rebuild strength to the lower body after carrying baby in pregnancy, but also from the new stage of feeding and picking up bubs afterbirth. 
I have seen many women build up a healthy relationship with their bodies again, and it is time for them to just be out and about, connecting with other mums. 
What tools do you give new mums to cope with this new stage of life? 
In class, we develop breath awareness again to help regulate hormone levels and simple easy pranayama techniques to help stress, long nights, less sleep! By practicing mindfully on the mat, new mums can create clear boundaries to help manage those stressful and overwhelming days-as a mother myself, my yoga practice was an integral part to staying steady inso much change!
Do you need to be a seasoned yogi to come to class?
Not at all!. The Selph mums and bubs yoga series is open to all levels, all ages. It's about community and supporting each other on this inspiring and challenging thing called motherhood. 
When's a good time to come to class after baby is born?
A healthy time to come to practice is when your baby is six weeks and you have had your first doctor check-up after birth. 
What do you enjoy most about teaching mums and bubs?
I love helping women transition from pregnancy to motherhood and sharing tools to create a healthy relationship with the feminine body. We go through so many changes as women, it is nice to have people understand what you have been through in pregnancy and to provide a safe place for women to support each other and build friendships.
I would never say no to a cuddle, and sometimes being able to hand the baby over and have a stretch in Downward Dog is a small win for a new mum! I am passionate about sharing the benefits of yoga as a practice in daily life, and providing different tools and ways to play and interact with your little one.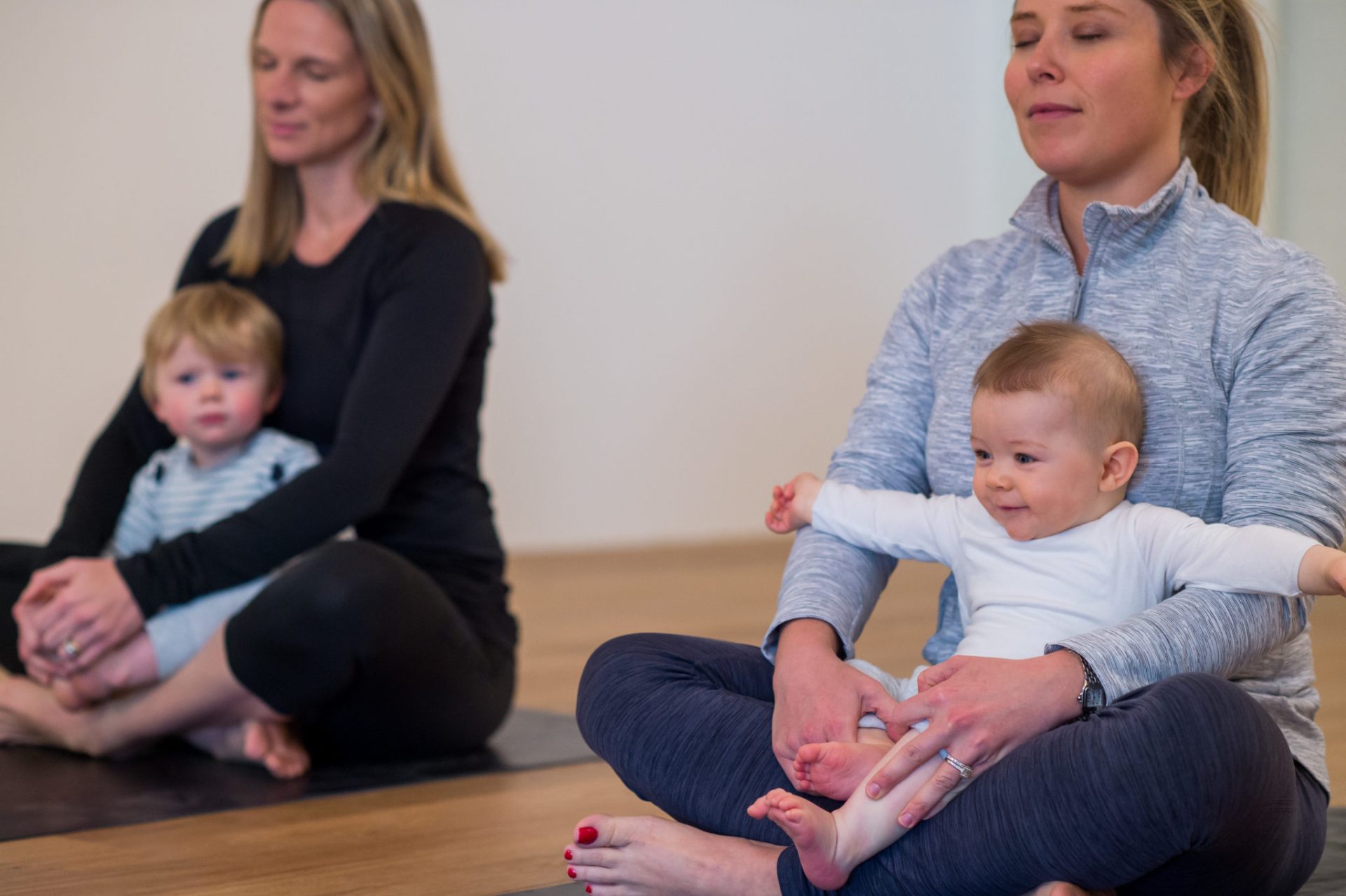 Where did your passion for this type of yoga come from?
In my previous career is worked with children under the age of 7, being trained in Montessori preschool ages I developed my love for empowering mother and child in their relationship.
From there I worked with pregnant mothers ever since I started teaching, and being a mother myself I have travelled the course of early parenting and have always taught from an embodied place. Even now trying to use my yoga practice to provide healthy boundaries for myself so I can parent clearly  (my kids are now 18 and 17! Mothering never ends). 
What can people expect coming to a mums and bubs class?
Well, it is always fun chaos! Classes are noisy and interactive, but in an unexpected way, calming and quiet. The babies are a part of the practice so it is very interactive, light-hearted, and explorative. Let go of any expectations, and just come ready to share and be in a safe place to have some time for you and baby to connect. I encourage mums to attend to bubs when needed, to let bubs be if they're needs are met, and to enjoy the class in a collective community setting.
---
We're excited to expand the Selph community of mothers, fathers and bubs. Our Mums and Bubs classes will be held every Monday from 26November – December 17. Follow this link to learn more about the yoga series. Spots are limited and bookings are essential.