Selph Naturopath, Sarah Benna Doyle, shares her gluten-free, dairy-free and refined sugar-free banana bread recipe for the ultimate guilt-free loaf.

"The combination of buckwheat flour and almond meal makes for a delicious, gluten-free loaf.

Buckwheat can be found in the health food isles of most supermarkets and whole food stores.

Buckwheat isn't a grain and is, in fact, a closer relative to rhubarb. It contains high amounts of rutin – a bioflavonoid or amazing plant compound.

Rutin works synergistically with vitamin C, meaning together they have enhanced effects. Not only is it anti-inflammatory and a powerful antioxidant, but it's also beneficial for collagen production (hello healthy ageing and skin integrity) and our cardiovascular system to improve the integrity of our blood vessels.

This recipe uses the natural sweetness of ripe bananas, but you can add 2-3 tbsp of honey or maple syrup if you prefer your banana bread on the sweeter side."

Sarah Benna Doyle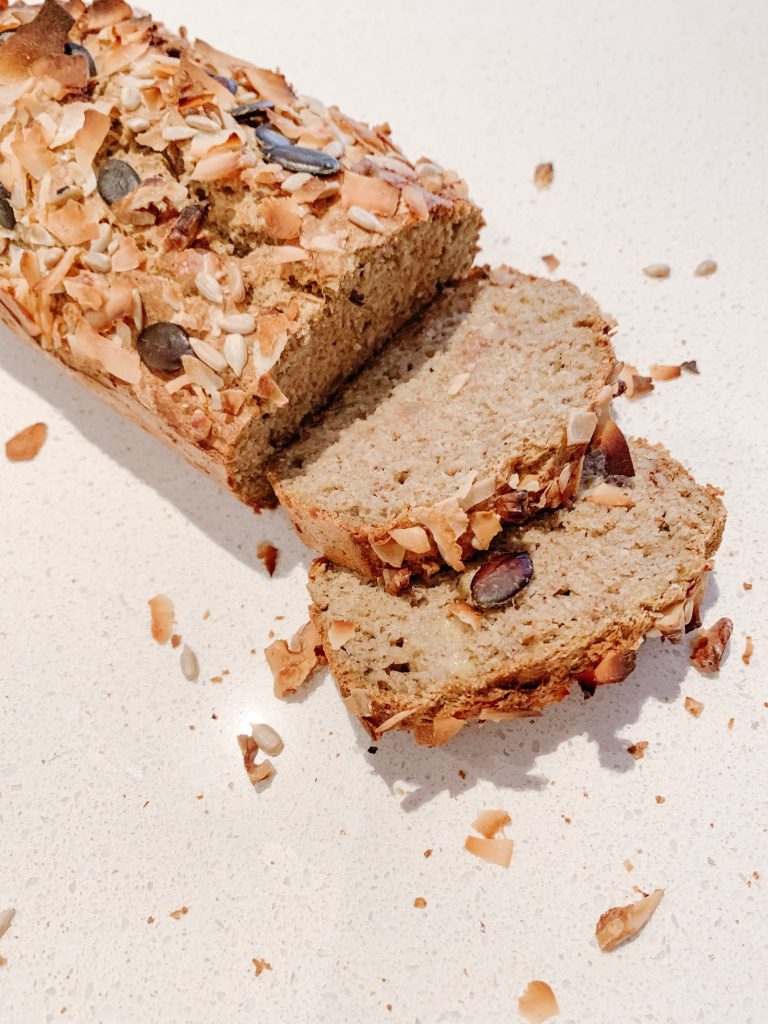 *This banana bread can be made vegan by replacing the egg with an additional flax egg. If gluten is not a concern, you can also use spelt or whole grain flour instead of buckwheat flour.

Guilt-Free Banana Bread
Makes 1 loaf, 10 slices | gf df sf

Ingredients

1 flax egg (1 tbsp ground flaxseed mixed with 2 tbsp water)
1 egg
3 very ripe bananas, mashed
2 tbsp coconut oil, melted
½ cup almond milk (or any dairy-free milk of choice)
¼ cup almond meal
1 cup buckwheat flour
1 tsp baking powder
1 tbsp ground cinnamon
½ tsp ground nutmeg
⅛ tsp ground cloves
Pinch of salt
¼ cup shredded coconut
Handful of roughly chopped walnuts
Small handful of sunflower and/or pumpkin seeds, to garnish
Nut butter, to serve (optional)
Method

Preheat oven to 180°C. Line a loaf tin with baking paper
Make flax egg in a small bowl by combining ground flaxseed and water. Allow to sit for 5 minutes.
In a large bowl, whisk together eggs, bananas, coconut oil and milk. Add the almond meal, buckwheat flour, baking powder, spices, salt, and shredded coconut, and gently fold until just combined.
Add half of the chopped walnuts, leaving the remainder to garnish.
Pour batter into the lined loaf tin and sprinkle the reserved walnuts and seeds on top.
Bake for 35 – 45 minutes or until the loaf is golden brown and a skewer inserted into the centre comes out clean.
Allow the loaf to cool in the tin for 10 minutes, then transfer to a wire rack. Slice and serve warm with a spread of coconut oil or a generous slather of nut butter.
---
Sarah Benna Doyle is a qualified Naturopath with a Bachelor's Degree in Health Science. Sarah is passionate about educating and supporting clients to improve all aspects of their lives for optimal health and wellbeing.

If you would like to begin your health journey with Sarah, you can book an initial consultation here.