Studio Overview

Movement and Meditation
The Selph Movement Studio supports you in achieving a grounded and resilient mind and body, through our unique combination of Yoga, Pilates, Meditation and Higher-Intensity classes.
Selph is a space for you to grow, work towards mindfulness and fitness goals, and create lasting change in your everyday life. Each Selph class has been designed from a foundation of wellbeing, and explores different elements of movement; from core strength and technique, endurance and balance. 
With classes grounded in mindfulness, our teachers help you stay focused in thought, and controlled in your breath, allowing for a deeper connection with your true self on and off the mat.



Read More About Selph Yoga & Pilates


Studio Schedule

A Schedule to Elevate Your Body and Mind
Our intimate class of setting of 18 mats ensures a personal level of guidance, so you feel supported in your practice every step of the way.
Our teachers will help facilitate your individual goals, providing modifications and variations for all levels of ability. Whether you're working with an injury or looking to enhance your movement practice, we craft a more personal approach to support you for lasting results.


How to Pick a Class
Selph offers a range of classes to help you Settle, Transform and Renew your body and mind each day.
A consistent weekly practice with at least one class per category will create the strength, understanding and connection required to fill you with greater body awareness and grounding.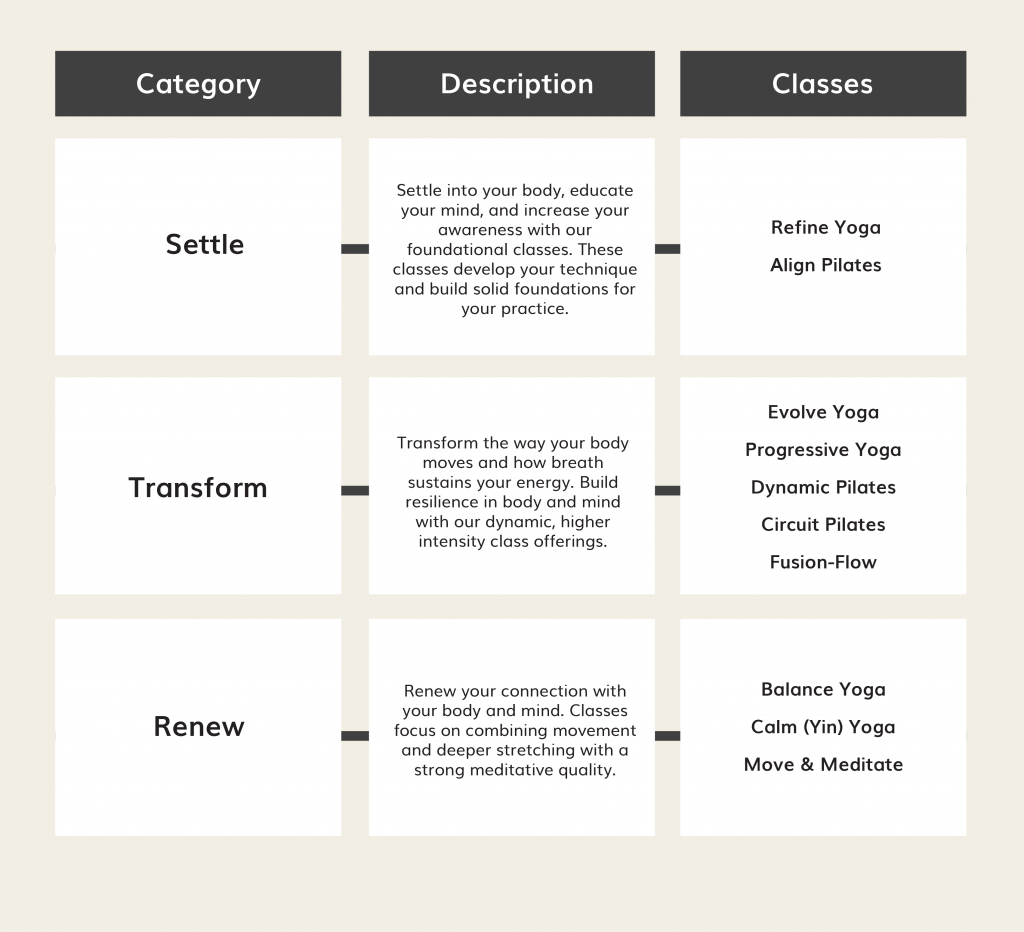 Class Types
Pilates
Align: This foundational mat-pilates class gives you clear guidance on developing better technique, how to build strength and be more mindful of postural alignment. The perfect place to get started.
Dynamic: This progressive class will focus on layered sequencing to build strength  through continuous movement. Added props allow for  more challenge and variety in each class, and stronger holds and core work.
Use the code trypilates for a complimentary class.

Find your flow for 28 days intro pass.

Higher-Intensity
Circuit: Sweat, increase your agility, and build diversity in your practice with a circuit class. This class focuses on building muscle strength and toning with full body movements and creative repetition.
Fusion-flow: A combination of movements inspired by pilates, barre, yoga and functional training. Flow through a higher intensity practice and enjoy a deeper release through active stretches in the parts of your body that need it most. 



View Membership & Casual Options

Yoga
Refine: This foundational Vinyasa flow focuses on longer holds and refining your physical alignment in each pose. . Focusing on stability first will ease you into a meaningful practice. This is a perfect place to start or refine your practice.
Evolve: Working in a smoother Vinyasa flow, this class focuses on building strength, flexibility and meditation. This flow focuses on unique transitions and peak poses to elevate your practice.
Progressive: This workshop-style advanced class will allow you to elevate your practice to the next level. Focusing on specific yoga movement principles and themes each week, stronger progressions and a deeper understanding of anatomy will be integrated with a dynamic movement practice. We recommend a consistent practice before diving into this class style.
Calm: This yin-yoga based class targets the 'rest and digest' nervous system for stress release. Keeping the connective tissue mobile in the joints whilst also working through different meridians for better organ health and emotional balance. Perfect for a busy lifestyle or tightness in the body.
Balance: This class is a combination of Vinyasa flow and yin-yoga. Focusing on a balance of movement and stillness, this class is perfect for stress release, softening tension and increasing energy levels.
Move and Meditate: A dynamic and exploratory meditation class, developing a deeper practice week by week. Exploring different techniques, the Meditation practice will often incorporate slower movements, deeper holds and breath regulation.
We will explore different techniques each week, whilst focusing on tapping into your body's innate wisdom to regulate your energy, to find healing and balance.  
45 series: The perfect weekday lunchtime yoga class to balance the body and mind. Find your flow with 45 mins of yoga, followed by an optional 15 minute guided meditation.  A great way to break up the workday, these classes will help you to reset and reenergise for the rest of the day.